Hello Annie! I'm glad you were willing to join me on this series. Annie has one of the brightest and most cheerful personalities in NewSong 2017, as evidenced by her loud and distinctive laughter, which is often heard ringing through the room. In fact, a quote has already been coined for when she starts gasping as she desperately tries to hold back laughter, "Just let it out, Annie."
If you could sum yourself up in five words, what would those words be?
Laughter, joy, sunshine, contentment, and family.
Tell us a little about the rest of your family?
Well, the short version is that I have a really wonderful family: two lovely sisters and two wonderful brothers, and an amazing brother-in-law and sister-in-law. I have a very loving, affectionate, and nurturing family, who loves to give hugs any time of the day, from morning hugs to standing-around-in-the-kitchen hugs. I'm the youngest in the family. My mom is my best friend, and with me being home-schooled and the youngest, I probably got to spend the most time with her. She is very Godly and very willing to listen [to me], which is helpful to me, considering I am a verbal processor. If you condensed my [end of the] conversations I have with my mom and removed all the pauses, you would likely end up with two hours of non-stop speech per day.
Tell us a little about the current church you attend (at home or at college or both)?
When I'm at school, I attend College Hill RP [Reformed Presbyterian] Church. I looked at a lot of churches, and felt this was a good place to spend the next four years. My church at home is incredibly supportive, filled with a lot of Godly people, and I know I'm at Geneva with their prayers, both when I was choosing the college and now as I am currently attending it. My dad's the pastor [at my church at home], so I enjoy the preaching a lot. I really appreciate learning and singing the Psalms [at College Hill RP], but I also enjoy worship at home with cello, violin, etc.
Why did you initially audition for NewSong?
I had remembered reading about a singing group while searching for colleges, but was unable to remember which college they were affiliated with. When I got to Geneva, I was pleasantly surprised to find that NewSong was the group I had heard about.
After being told about NewSong, I brought it up in my first advisor meeting with Doc [Dr. David Smith], I told him I wanted to add a credit for NewSong, and Doc explained that it didn't quite work that way, and that I needed to audition for it. I then learned about summer travelling with NewSong, and I thought it sounded really cool, so I started praying about auditioning. When audition sheets were put out, I thought it would be good to audition. I debated the choice of songs to sing at the audition, and my sister Rachel [advised me] to go with a song I was comfortable with, so I chose a song [so familiar] I could hear her singing it in my head – "Give Me Jesus" (spiritual).
Final meal if you were on death row?
I would want to eat with my family, and have mom's cooking – anything she makes is good.
What do you do for relaxation or fun?
I generally find life to be relaxed and fun. If I get stressed out, I look for the humor in situations. If I ever get really upset, which is rare, I find playing the piano helps. Looking at paintings (Monet, etc.) is relaxing and refreshing. Family time is a wonderful way to relax. I've also been learning that time with brothers and sisters in Christ, while not exactly the same as family time, also helps.
One little-known fact about you?
My family played as an old-time band (bluegrass) for many years. I sang and played the mandolin enough to hold one.
This year, we went to a music festival, and I played washtub bass (washtub basin, with a washer on a hook underneath it, and a handle connected to a rope to adjust pitch)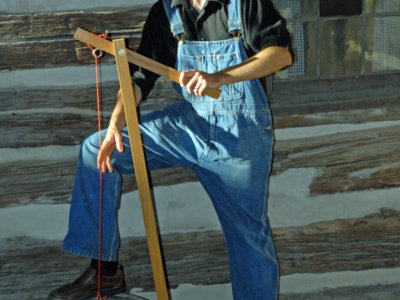 One song from NewSong's current repertoire that gets stuck in your head?
Psalm 49 (Hear This, All Ye Peoples Hear, arranged by Dr. Robert M. Copeland)
Favorite Bible hero/verse/book/passage/etc.?
Passage: Ephesians 4 (building up others with our words),
Verse: Genesis 50:20 "As for you, you meant evil against me, but God meant it for good, to bring it about that many people should be kept alive, as they are today." (ESV)
Hero: Saul/Paul. If God can do radical transformations like that for His glory, He can do the same in my life and in the lives of those around me.
Even over the span of three weeks, it's become clear you have a veritable treasure trove of polysyllabic words to draw from. How did that happen, and what is the newest/best word you've learnt recently?
It doesn't really come from my reading, because I often run into words I am unfamiliar with. It probably comes more from my family: granddad was a professor, so mom grew up around big words, and dad had gone to seminary and done his Masters' at Vanderbilt. I didn't purposefully try to learn big words, but they've come up in family interaction. My favorite new word is "ferroequinologist" [definition: train enthusiast], used by Will Shaw during training week to explain Thomas Kinney's obsession with trains. I don't retain new words very well though, so I have to hear them use them in context often to remember them.
Favorite movie(s)?
Princess Bride, It's A Wonderful Life
What would you most want people to remember you for?
The greatest commandment: love for God and love for others.
[Matthew 22:36-40] 36 "Teacher, which is the great commandment in the Law?" 37 And he said to him, "You shall love the Lord your God with all your heart and with all your soul and with all your mind. 38 This is the great and first commandment. 39 And a second is like it: You shall love your neighbor as yourself. 40 On these two commandments depend all the Law and the Prophets."
Thank you so much for giving us some insight into your personality, Annie!
---
Image Credits:
Mandolin: https://www.folkmusician.com/products/the-loar-lm-370-mandolin
Washtub bass: https://matthewkeeler.bandcamp.com/merch/washtub-bass
http://www.acousticguitarforum.com/forums/showthread.php?t=332833
Princess Bride: http://www.rogerebert.com/reviews/the-princess-bride-1987
It's A Wonderful Life: http://standardissuemagazine.com/arts/rated-dated-wonderful-life/